One Purchase. All Platforms.
Get SINGPRO on your phone, tablet, laptop and desktop so you can practice anywhere! SINGPRO is compatible with Windows, MacOS, iOS and Android.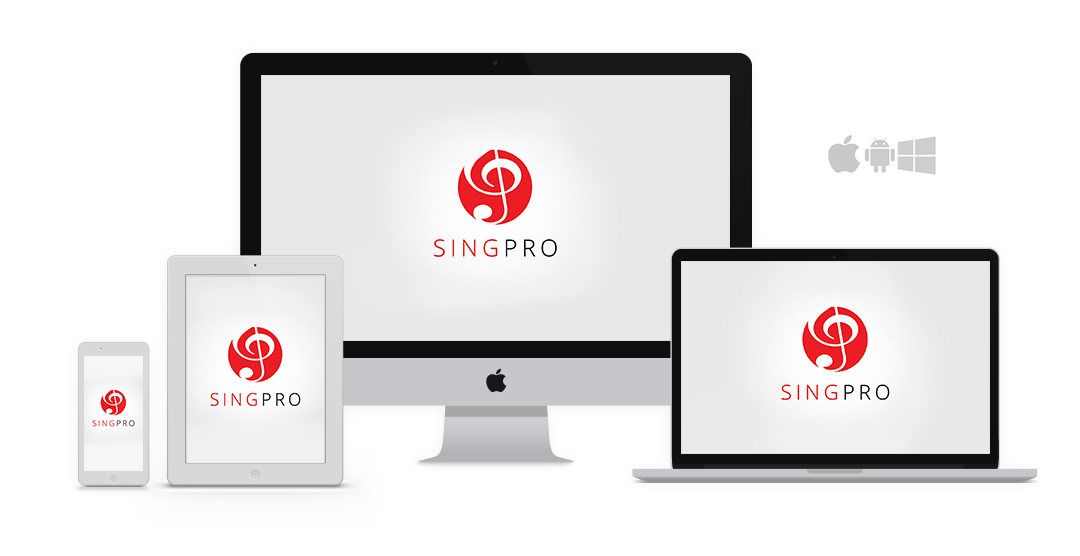 Simple & Easy to Learn
Never before has learning to sing been so easy and fun! Beginners will learn how to sing and professionals will have all the tools they need to stay at the top of their game.
Our evaluation process is a proven method of determining a singer's overall vocal ability and health. It determines the voice habits you have & provides a customized workout to improve your voice. Our online vocal training is the best in the industry.
Features
SINGPRO comes packed full of vocal training tools to improve your voice!
Vocal Studio
This is where everything happens; your Vocal Studio is your portal to access all your workouts, tools, videos & more!
Video Library
Fun & informative videos from the world's most respected vocal experts. Learn about technique, health, & performance. Record & export your own singing videos.
Vocal Journal
Store recordings from your warm-ups, work-outs, & evaluations. Keeps track of your written evaluations & track your progress.
Warm-Ups
User controlled vocal warm-ups; choose from scale pattern, range, speed, and vowel sound warm-ups.
Vocal Recorder
Record, playback, & export your recorded files. Upload karaoke tracks, shift them into the right key for your voice, & share!
Pich Training
Learn to identify pitches and also to hear and sing intervals and harmonies through strengthening your voice.
Testimonials
Here's what users have to say.
"How wonderful it is that someone came up with the incredibly helpful idea of making a tool for the milliions of singers all over the world who need to warm up before singing and to help improve their range. Dave came out and joined me on tour. When he wasnt with me I used SINGPRO and found it so helpful. It has every kind of scale a singer would need for any situation and can be talored to suit each individual voice. Many of the singers who came out with music at the same time as me have lost their voices and range from the pressure of singing every night and also the travel and lifestyle. I feel so greatful that Dave and SINGPRO helped me develop the habit of warming up and excerising my vocal cords. It is a muscle that needs to be stretched and worked out just like any other muscle in the body for it to stay healthy. My range has increased and I can honestly say I am a better singer today than I ever was and its because i never have stopped learning and growing. SINGPRO is so helpful for this and I'm so excited that schools all over the world and also individuals get to have it as a very easy to use app. I think it is good for all kids and people to learn to sing because it releases a lot of tension and is a great vehicle to channel your emotions and pain. it brings people together. it helps you get outside of your own head. It's powerful."
2019-09-02T10:30:03+00:00
Artist, Singer, Composer
http://www.singpro.com/testimonials/natasha-bedingfield/
"As a touring singer, it's so important to stay in shape vocally on the road. SINGPRO has given me access to a variety of techniques and vocal exercises I am able to use with the many different artists I work with like Rihanna, Justin Timberlake, Robbie Williams, Alicia Keys, Alessia Cara, Booker T Jones and Demi Lovato, to name a few. Even as a vocal performance coach, I use it to help my clients understand how to bridge the gap between the exercises and lyrical application when performing on stage. SINGPRO is my on-hand, on-demand vocal coach on the go!"
2019-09-02T10:44:46+00:00
Artist, Singer, Background Vocalist, Vocal Coach
http://www.singpro.com/testimonials/denosh-bennett/
"SINGPRO is my go-to tool as a vocal coach. It allows my clients to keep pace with their development in between our sessions. It also makes working with artists on-line easy. They can sing to the scales wherever they are; all I have to do is personalize the exercises based on their responses. SINGPRO is packed with easy to use, functionality!"
2019-08-31T08:56:59+00:00
Darcy D Music Group, Artist Developer
http://www.singpro.com/testimonials/darcy-deutsch/
"SINGPRO is an incredible tool that constantly helps me develop both my singing voice and my musical ear. Not only is it very easy to navigate, but the various tools, resources, and exercises allow me to constantly expand and hone my singing skills. Whether I'm at home or on vacation, I have an assortment of tools, books, and exercises at the touch of a button. From light vocal warmups to intensive workouts, SINGPRO has what any artist needs to master their voice. This is truly an amazing tool that every singer needs in their belt. I highly recommend this app to anyone looking to improve as a singer, artist, and/or musician."
2019-09-02T10:45:44+00:00
Student USC, Singer
http://www.singpro.com/testimonials/william-garrick/
"As a professional singer who finds herself constantly singing, arranging, recording, traveling, it's vital for me to keep my vocal health a priority. My warm up time is a must every day, even when I'm not working, to ensure I'm ready for any call! Singing for NBC's The Voice is a FULL TIME job for me as I work 6 days a week rehearsing, recording iTunes, and contracting the show's additional singers. With this much vocal use, I am grateful to have a tool like SINGPRO in my pocket at all times. Also, as a touring vocalist with Blake Shelton during my "down-time", I find that SINGPRO helps immensely checking in on my overall health from all of the different climates and travel. It's like yoga for your throat! I recommend this useful tool to every singer I work with as it ensures a healthy warm up and a great conditioning tool between gigs."
2019-09-02T10:35:40+00:00
Artist, Performer, Background Vocalist (Blake Shelton, The Voice), Vocal Contractor
http://www.singpro.com/testimonials/kara-britz/
"On tour with Goo Goo Dolls we sing over 90 minute shows 5 days a week. Warming up is crucial and we've been using SINGPRO successfully for the last two years. Of all the options on the market this is far and away the best product I've ever seen, it's not even close. The amount of vocal warmups and workouts included in SINGPRO along with its diagnostic abilities make it specific and useful for any type of singer. It's not a "one size fits all" workout that I've seen in many apps. In fact, it's tailored more specifically to each individual singer's needs than I've seen from in person lessons with some famous vocal coaches. But, as someone who's studied music theory intensively and is also a voice teacher, I must say that the vocal workouts are just the tip of the iceberg. I was blown away that the Ear Training section utilized the same methodology that I studied when coming up and allowed me to test out of Ear Training when I enrolled at Berklee. And the Reference section of SINGPRO has invaluable texts and videos on everything from voice science to business approach, to proper phonetics. There's even an easily accessible metronome, keyboard and a voice recorder to help evaluate your progress. It's sort of mid boggling to keep listing all of the things SINGPRO does right, so to Just summarize: I don't know what I would do without SINGPRO."
2019-09-02T10:32:02+00:00
Singer for Goo Goo Dolls, Katy Perry
http://www.singpro.com/testimonials/korel-tunador/
"Going from American Idol to the voice to the AMAs to sessions for Diane Warre, Randy Jackson, and Disney to touring with Kelly Clarkson... the one consistent thing in my singing life is warming up with SINGPRO."
2019-08-31T08:51:54+00:00
Artist, Background SingerArtist, Background Singer
http://www.singpro.com/testimonials/jess-collins/
"Many people think that you are either born with a natural voice or you just can't sing. I'm here as proof that is not true. I have been a piano player - mostly classical - but wanted to pursue pop music and had no experience with singing. So, I tracked down the best coach I could find, and found out he also had some software for vocal development. SINGPRO became my go to tool and with it, I was able to not only get more range and ease in my voice, but I have been able to stylize so much better because of my use of the program. I worked hard and used SINGPRO every day, and usually 2 times a day, and I was able to get up to the level that America's Got Talent urged me to audition for them. I made 2 rounds on the show and I can say it was, in large part, because of the customization of the vocal workouts in SINGPRO. Thank you SINGPRO for giving so much voice!"
2019-09-02T10:42:53+00:00
Artist, Composer, Producer, and now SINGER
http://www.singpro.com/testimonials/darcy-callus/
Pricing
Compare SINGPRO to the competition.
Exactly. What competition?